Ball Plunger Switch Achieves φ4, the World's Smallest Size.
---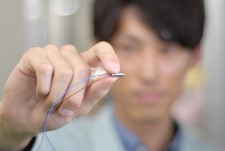 Metrol developed "Ball Plunger Switch [BP4S]", the newest addition to BP series.
Ball Plunger Switch plays 2 roles in 1, with a precision position switch built into a ball plunger. This new product achieved φ4mm, while conventional BP was M6.

The development of BP4S started in 2013.
The first step was a hand-drawn blueprint by Engineer H from the production department. Facing problems in assembling and in durability, he realizes φ4 Ball plunger through trial and error.
Published by METROL CO.,LTD. on Dec 16, 2015

T: 81 50 5558 7366
F: 81 42 528 1442
Address
1-100 Takamatsu-cho Tachikawa
Tokyo
190-0011
Japan
View map
T: 81 50 5558 7366
F: 81 42 528 1442
Address
1-100 Takamatsu-cho Tachikawa
Tokyo
190-0011
Japan
View map