AMETEK Develops Exhaust Gas Thermocouple from Ceramic Matrix Composite
CERAMIC MATRIX COMPOSITE EXTENDS PERFORMANCE RANGE OF EXHAUST TEMPERATURE THERMOCOUPLES FOR AEROSPACE
---
The Sensors and Fluid Management Systems (SFMS) business unit of AMETEK Aerospace & Defense has developed a patent-pending thermocouple with a sheath made from a ceramic matrix composite (CMC) material.

The CMC material extends the measurement range of conventional thermocouples made from nickel-based alloys, which tend to deteriorate rapidly when temperatures exceed 2100oF (1150oC). AMETEK's "CMC Thermocouple" sheath is rated for continuous operation at 2200oF (1204oC) and for short-term exposure to 2500oF (1350o to 1400oC).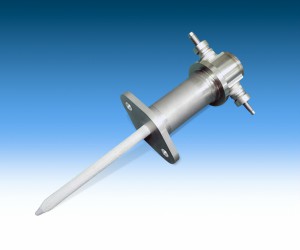 With its higher temperature capability, the CMC offers the dual benefit of extending the life of Exhaust Gas Temperature (EGT) thermocouples, thereby postponing costly engine overhauls, while at the same time allowing closer proximity of the thermocouple to the combustor. Th...
With its higher temperature capability, the CMC offers the dual benefit of extending the life of Exhaust Gas Temperature (EGT) thermocouples, thereby postponing costly engine overhauls, while at the same time allowing closer proximity of the thermocouple to the combustor. This closer proximity results in a more accurate measurement of the true turbine inlet temperature, which directly leads to a more efficient engine with lower fuel consumption.

The CMC sheath exhibits greater ductility than pure ceramic materials, which infamously suffer from instant brittle failure. Ultimate strains of CMC coupons were measured to be between 1% and 9%, depending on temperature, while demonstrating yielding behavior. AMETEK has performed temperature and vibration tests, and confirmed that the creep resistance of the CMC is superior to those of conventional metals.

As numerous aerospace OEMs have recognized, CMCs are an exciting development in engine applications. As ceramics are one-third the density of steel and nickel alloys, the CMCs also provide significant savings in fuel consumption due to their lower weight.

AMETEK's CMC thermocouple uses internal conductors that produce an output similar to a Type K junction but with enhanced resistance to oxidation. AMETEK has packaged these improved thermocouples into a popular geometry with conventional terminal studs for easy installation (see photo below). Custom geometries can be requested.

About Sensors and Fluid Management Systems AMETEK Sensors and Fluid Management Systems is a leader in aircraft and engine sensors for temperature, pressure, flow, fluid level, acceleration, proximity, speed and position. It is a unit of Aerospace & Defense, a leading supplier of engine and aircraft monitoring systems; data acquisition units; fuel and fluid measurement systems; heat transfer and cooling systems; and maintenance and repair services.

AMETEK Aerospace & Defense is a division of AMETEK, Inc., a leading global manufacturer of electronic instruments and electromechanical devices with annual sales of $4.0 billion. For more information, contact AMETEK Sensors and Fluid Management Systems, 50 Fordham Road, Wilmington, MA 01887. Phone: 978-988-4617. E-mail: [email protected]. Web: www.ameteksensors.com
Published by Ametek on Oct 04, 2016

T: 610-889-5278
Tech. Dpmt.: 484-354-1257
F: 215-323-9337
Address
1100 Cassatt Road
P.O. Box 1764
Berwyn, PA
19312
United States
View map