Allied Motion Introduces KinetiMax 42 EB Brushless DC Motor with Integrated Drive
---
Allied Motion Technologies introduces the ...
Allied Motion Technologies introduces the KinetiMax 42 EB, a 42-mm diameter outer rotor, brushless DC motor with an integrated drive. Extremely compact, the KinetiMax 42 has a robust bearing system capable of handling high side loads. It has a minimum operating life of 20,000 hours. The KinetiMax has an integrated speed control loop with speed set input to adjust motor speed from 150 to 5000 RPM.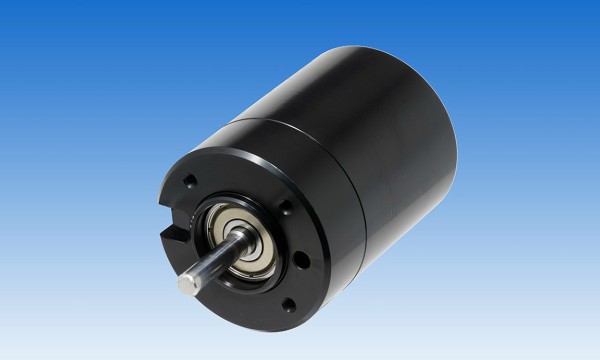 The external rotor and iron-core stator minimize cogging and maximize output torque. The higher inertia of the outer rotor design enables a smoother running motor even at low speed. The KinetiMax 42 is equipped as standard with thermal overload protection with automatic recovery, and reverse supply voltage protection.
KinetiMax 42 offers a cost-effective solution for applications including smaller capacity pumps, fans and blowers, scanners, and similar applications that require smooth fixed or variable speed control.
KinetiMax 42highlights include:
70 mNm rated torque and 31 W output at 4300 RPM
6-wire version with tachometer output (18 pulses per rev) for speed monitoring, speed input and direction input
Choice of 12 or 24 VDC winding
IP54-rated protection
Low EMI (complies with EN55014-1/2, 61000-6-1/3)
Options include customized shaft, mounting flange, leads and connector configurations, and special winding voltage rating.
About Allied Motion Technologies Inc.
Allied Motion Technologies, Inc. (Nasdaq: AMOT) designs, manufactures and sells motion products to a broad spectrum of customers throughout the world. The Company offers high quality, cost-effective products that serve a wide range of engineered applications in the off road, truck, bus and recreational vehicle markets, fuel cell, telecommunications, semiconductor, industrial, medical, military and aerospace industries, as well as in the manufacturing of analytical instruments and computer peripherals. End products using Allied Motion technology include HVAC systems and actuators for the vehicle markets, tuneable lasers, wavelength meters and spectrum analyzers for the fiber optic industry, robotic systems for the semiconductor industry, anti-lock brake and fuel cell applications for the specialty automotive market, satellite tracking systems, smart bomb and munitions control applications for the military and defense markets, as well as various applications in the medical and high definition printing markets.
For more information, visit www.alliedmotion.com, email: [email protected], or call 716.242.7535.
Published by Allied Motion on Dec 09, 2017

T: 716-242-7535

Address
495 Commerce Drive
Suite 3
Amherst, NY
14228
United States
View map
T: 716-242-7535

Address
495 Commerce Drive
Suite 3
Amherst, NY
14228
United States
View map