Lauren Manufacturing names new plant manager
Kerr to manage operations at Lauren Manufacturing
---
Lauren Manufacturing has named Chris Kerr plant manager of its New Philadelphia, Ohio location. In this new position, Kerr will oversee day-to-day operations of the manufacturing facility, which engineers custom rubber seals and components for use in a wide range of markets. He will focus on helping the company achieve its goals for growth while maintaining a high level of workplace safety.

Kerr brings 28 years of rubber extrusion and molding experience as well as a strong record of leading improvements within manufacturing operations.

In addition to achieving 1.5 million hours without a lost time accident, Kerr has implemented successful employee-performance, waste-reduction and cost-savings programs.
He was named in the Top 20 Under 40 by Glass Magazine in 2005. "Helping employees and the company get to new levels is exciting for me, and I enjoy the challenges that come with growth," Kerr said. Kerr's commitment to both continuous improvement and t...
He was named in the Top 20 Under 40 by Glass Magazine in 2005.

"Helping employees and the company get to new levels is exciting for me, and I enjoy the challenges that come with growth," Kerr said.

Kerr's commitment to both continuous improvement and teambuilding makes him an excellent fit for the company, according to Lauren Manufacturing Executive Vice President Chris Pfeiffer.

"Every day, we challenge ourselves to perform better in all aspects our organization," Pfeiffer said. "Chris shares that vision, and we will rely on him to ensure our operations continue to deliver higher value to our customers."
Published by Lauren Manufacturing on 12 Sep 2016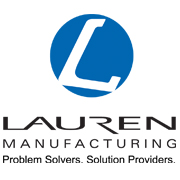 For more information send an inquiry directly to Lauren Manufacturing